Estate tour and wine tasting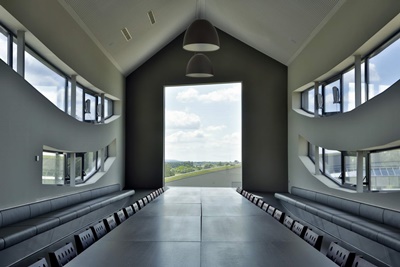 At Kreinbacher Estate we share our experience and knowledge not only by tasting our wines. During the cellar tour we show you the stages of modern wine and sparkling wine making that is carried out here and has been built on many traditions. We present all the know-how in a clear and manageable manner, ensuring that not even the tiniest detail is lost in translation. This program offers you a unique opportunity to learn the secrets of the "Méthode Traditionnelle", the process how sparkling wine is fermented and aged in bottles. Of course, we also provide an opportunity for wine and sparkling wine tasting at the end of the estate tour.
Get to know the wines and sparkling wines of Kreinbacher Estate here.
Estate tour and wine tasting
Guided program in the winery and champagne cellaring which is started with champagne and ended with wine tasting.
- Estate tour with 6 items of wine and sparkling wine 27 EUR/person
- Estate tour without tasting 12 EUR/person
The price includes the app. 2,5 hours long professional guide in the winery and in the sparkling wine cellaring, the selected wines-, sparkling wines, baguette and mineral water.
From 10 participants a different number of tasting items can be provided based on prior agreement.
You can join the guided tours every Friday at 3 pm, Saturday at 11 am and/or 3 pm, and also on private dates (between Monday and Saturday) from 6 persons based on prior reservation.
The Winery is closed on Sundays, visitation is not possible on these days.
The Winery is considered as manufacturing area therefore its visit is not permitted for children under 10 years old. Thank you for your understanding!
Inquiry and registration via birtok@kreinbacher.hu e-mail address or via +36-88-236-420 phone number.